Dr. Tanure Ojaide Wins Prestigious Award for Literary Excellence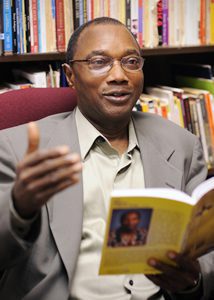 By: Kamakshi Kamath, graduate student intern, CLAS
Wednesday, February 24, 2016
For his commitment to democratic ideals, humanistic values and literary excellence in Africa, Tanure Ojaide, UNC Charlotte's Frank Graham Porter Professor of Africana Studies, has won the Fonlon-Nichols Award.
Ojaide will receive the prestigious honor at the 42nd annual African Literature Association (ALA) conference in Atlanta, scheduled for April 6-9. The thematic focus of the conference is "Justice and Human Dignity in Africa and the African Diaspora."
The Fonlon-Nichols Award is given annually to an African writer for excellence in creative writing and for contributions to the struggles for human rights and freedom of expression. The award was established in 1992 to honor Bernard Fonlon, who was a writer, teacher and editor, and Lee Nichols, a journalist, for their contributions to African literature, support for human rights and advocacy of freedom of expression. The founding endowment of the award is housed at the University of Alberta, under the responsibility of the dean of arts.
The ALA, which nominated Ojaide for the award, is an independent, nonprofit, professional society that facilitates attempts of a worldwide audience to appreciate the efforts of African writers and artists.
Ojaide is a prolific writer with 17 poetry collections, two memoirs, three collections of short stories, four novels and seven scholarly books. His poems have been published in dozens of major anthologies, including "The Poetry of Men's Lives: An International Anthology," "Emergency Kit: Poems for Strange Times" and "Border Lines: Contemporary Poems in English."
In 2006, he received the UNC Charlotte First Citizens Bank Scholars Medal for his distinction in creative writing and scholarship.