Alumnus Feature: Brenda Tindal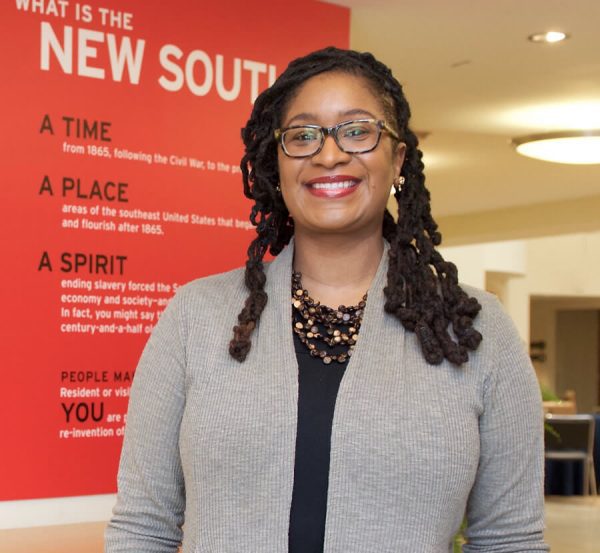 UNC Charlotte alumna Brenda Tindal, who is Levine Museum of the New South staff historian, sees history as a way to build community, while deepening our understanding of the past's persistent influence.
"Levine Museum of the New South is a significant site of courageous inquiry and a place where there is never a poverty of imagination," Tindal says. "In my view, 'mobilizing history to build community' is one of the hallmarks of the Levine Museum. This concept refers to the ways in which history can be used as a gateway to community engagement and as a venue through which we – as a community – can deepen understanding and increase knowledge of our past, learn how it shaped our present, and consider how it informs our future."
Tindal was named to her position in September 2015 when noted historian Tom Hanchett retired. As only the second person to occupy the post since the museum opened in 2001, she is responsible for conducting research, planning and curating major exhibits that place the city and region into historical context, developing and delivering educational programs, supporting communications, media, and community relations efforts, and serving on the Museum's senior management team.
Since she joined the museum in her leadership role, Tindal has been instrumental in the development of talks, exhibits and other activities designed specifically to explore the community's history that has influenced the protests in the wake of the police shooting of Keith Lamont Scott in September 2016. A new exhibit, "K(NO)W Justice, K(NO)W Peace," opened at the Levine Museum of the New South in mid-February 2017. Observers noted the rapid development of the exhibit to speak to a current topic the community is addressing.
Tindal takes seriously her role as one of the most prominent public historians in the Charlotte region and the role the Levine Museum plays in community conversations.
"Writer-activist Alice Walker once said that 'People are known by the records they keep. If it isn't in the records, it will be said that it did not happen. That is what history is, a keeping of records.' Building upon this wise observation, I think historians are essential purveyors of the past – they are in a sense keepers of records," Tindal says. "But what makes historians, especially public historians, relevant is the way in which they use the past to enliven and contextualize the present. History does not happen in a vacuum."
The Levine Museum is a community and intellectual enterprise that values the complexity and nuances of history from a broad perspective, with emphasis on the diverse narratives of the New South in particular, she says.
Tindal grew up in Mecklenburg County, participating on her high school debate team and planning a career as a lawyer. When she started at UNC Charlotte as an undergraduate, her career path changed with what she describes as a Eureka! moment in a history class with professor Gregory Mixon. She switched her major to history and never looked back.
Tindal earned her bachelor's in History and Africana Studies with University Honors distinction from UNC Charlotte in 2004 and her master's degree in American Studies from Emory University in Atlanta in 2010. She is completing her doctoral degree in History and Culture within the Graduate Institute of Liberal Arts at Emory University.
Tindal's connections with UNC Charlotte include past service as a visiting lecturer in the Department of History and Honors College from August 2012 to December 2015. She taught a broad range of courses related to 19th and 20th century U.S. and South African history, visual and material culture, and global social reform movements. She now serves on the Advisory Council for the UNC Charlotte Women + Girls Research Alliance.
Her work with the museum began in 2003, when she worked as an intern and research consultant, assisting with the award-winning exhibit COURAGE: The Carolina Story that Changed America, followed by the early development of the Purses, Platforms, and Power: Women Changing Charlotte in the 1970s exhibit.
In her post-degree work, Tindal has conducted significant and comprehensive research, archival and exhibit projects. These included work with the papers of Pulitzer Prize-winning Alice Walker, the organizational records of the Southern Christian Leadership Conference, and the papers of Ambassador Andrew Young at the Auburn Avenue Research Library on African American Culture and History. She served as a Digital Archives and Oral History Fellow at the HistoryMakers in Chicago and was a Fellow and Project Archivist at the Seeley G. Mudd Manuscript Library at Princeton University.