Dr. Herman E. Thomas to Receive AFRS Founders Award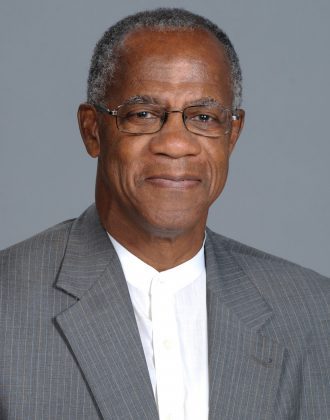 THE INAUGURAL Africana Studies Founders Award
Herman E. Thomas
February 23, 2018
Cone University Center (Room 111)
Herman E. Thomas is the son of the late Mr. Albert M. Thomas and the late Mrs. Grace Parrish Thomas, both of Bryson City, N. C. He was educated in the public schools of North Carolina, Tennessee, and Ohio and he holds four earned degrees – Bachelors of Science from North Carolina A&T University (1963), Bachelors of Divinity and Masters in Theology from Duke University Divinity School (1966), and Ph.D. from Hartford Seminary Foundation (1978).
Thomas joined UNC Charlotte in 1974 as a professor of Religious Studies. He arrived at the very time that Professor Maxwell-Roddey was developing the curriculum and vision for one of the oldest Black Studies programs in the U.S. Professor Thomas immediately joined this effort. He worked tirelessly alongside Dr. Berta Maxwell-Roddey to establish the African American and African Studies (AAAS) Department at UNC Charlotte, and to develop the curriculum that lead to the baccalaureate degree in AAAS.
Professor Thomas played a leading role in organizing the first meeting that led to the establishment of the National Council for Black Studies, the official accrediting body for Black and African-American Studies.
A visionary who believed in the community engagement mission of Black Studies, he was one of the key UNC Charlotte faculty who spearheaded the establishment of the Afro-American Cultural Center, what is now known as The Harvey B. Gantt Center for African- American Arts + Culture. He served as the founding member of the center's board of directors, and later as chair of the board from 1979 to1984 and again from 1999 to 2001.
A beloved teacher and mentor, Dr. Thomas realized the need to ensure incoming freshmen were supported and successfully transitioned into their new university environment. Hence, in 1986, Thomas founded the University Transitional Opportunities Program (UTOP), which brings incoming students to campus in the summer before their freshman year. The counseling, tutoring and social activities the students receive help them get a running start on their college experience. UTOP is one of the anchor programs at UNC Charlotte geared towards student success, retention, and timely graduation.
Throughout his life, Thomas has fought quietly for each North Carolina citizen's right to a quality education. He began with his own. As a rising freshman in 1955, Thomas wasn't allowed to attend the local Swain County high school, about two miles from his home. Instead, he was to be bussed 46 miles roundtrip to a bordering all black school. When Thomas' parents unsuccessfully tried to enroll him in the nearby school, his family was threatened and his father was fired. Although there was no violence, they sent him to live with relatives in Ohio – where he was the only black student in his freshman class.
And as a student at N.C. A&T in 1960, Thomas played a key role in the Civil Rights Movement. When Thomas' four friends were jailed for sitting at a lunch counter reserved for whites, his role was to avoid arrest, so he could bring them and others necessities and notify parents and campus officials.
In appreciation of his multifaceted contributions to the Charlotte community's life, the Pride Magazine honored Thomas as Citizen of the Year in 1999 and as one of Charlotte's 47 Most Influential African American Leaders in 2002.
On April 11, 2005, Thomas was recognized with the UNC Charlotte 2005 Distinguished Service Award for his personal commitment to educational opportunity for all students. The annual award, presented by the UNC Charlotte Board of Trustees and Foundation Board of Directors, is the university's highest recognition for individuals whose exemplary career service has advanced the university and its mission to serve the state and the metropolitan region.
In May 2005, Professor Thomas officially retired from UNC Charlotte after 31 years. After that, he joined Shaw University, the oldest historically Black institution in the South, as Vice President for Academic Affairs. He retired from Shaw in 2009. Dr. Thomas is retired but not tired. He continues to be engaged with UNC Charlotte, supporting the mission of UTOP and the mission of the Africana Studies Department.
Dr. Maxwell-Roddey, the founding director and founding chair of Black Studies at UNC Charlotte, with whom Dr. Thomas worked closely, described him as "a perfect gentleman." She continues: "without Herman, our efforts to plant the seed of Black Studies at UNC Charlotte would not have been as successful. He was the one who dug the hard soil, nurtured the shoots of the planted seed, and made sure our young plant received the water, fertilizer, and the right environment needed for it to thrive. Unlike many of his contemporaries—white and black, he did not have any problem working under a female leadership. He gave me his full support. He was dependable and supportive. Anything I achieved at UNC Charlotte, I did it with Herman Thomas."